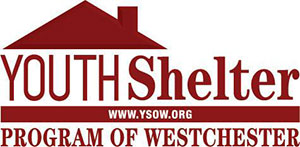 914.668.4702 | www.ysow.org
Year established: 1975
Number of full-time employees: 18
Number of part-time employees: 3
Annual revenue: $1,384,753
Geographic service area: Westchester County
TOP FUNDING SOURCES:
Contributions: 2%
Grants: 94%
Foundations: 4%
"Thank you for all you do in the movement to end the overcriminalization and mass incarceration of people of color, immigrants, and people experiencing poverty."
—Nicholas R. Turner, President and Director (Vera Institute of Justice)
SOCIAL MEDIA:
Facebook: @ysow4youth
Twitter: @ysow4youth
Instagram: @ysow4youth
OUR MISSION
Building brighter futures, one saved youth at a time.
HOW WE MAKE AN IMPACT
The Youth Shelter Program of Westchester (YSOW) is the only organization of its kind in New York State to serve as an alternative to incarceration for youth ages 18–24 within the criminal justice system. The shelter operates as a community–based home-like alternative to incarceration for young men awaiting disposition or who have been sentenced on various criminal charges through the Westchester County Court System. Incorporated in 1975, the shelter provides its residents with food, shelter, medical care, psychological counseling, substance abuse treatment, state certificated high school education administered by the Southern Westchester BOCES, social and recreational programs, and a positive environment that emphasizes respect, discipline, structure, and responsibility, and fosters a team-centered healing approach. As one resident put it, "Why did I need to get in trouble with the law to access all these services?"
Post-release and non-residential programming for justice-involved youth is provided through our LEAD Academy, and includes community-based programming to ensure that our youth are positively reintegrating back into their communities of origin and to reduce their chances of recidivism.
GIVING OPPORTUNITIES
The Youth Shelter will hold its annual friendraiser in November 2022 and 45th annual gala in May 2023. We welcome individuals and/or corporations to reach out to our leadership team regarding sponsorships for these two signature events. Moreover, we welcome the ongoing financial support of donors who can give electronically through our website at www.ysow.org to cover the incremental cost of the program not covered by County funding.
VOLUNTEER OPPORTUNITIES
The Youth Shelter has a variety of opportunities for volunteers of all ages and interest to engage with our youth. We welcome the opportunity for participation through mentorship, career advice and exploration, internships, job shadowing as well as a host of enrichment activities (i.e., yoga, creative writing, music therapy, etc.) for our young people. In addition, the Youth Shelter could always benefit from donations ranging from board games, toiletries to musical instruments, and books to new clothing.
LEADERSHIP
Joanne Dunn, Executive Director
Jordan Cormier, Director of Programming
BOARD MEMBERS
Reverend Darren M. Morton, EdD, Chairman
Jason McCalla
Michelle A. Nicholas
Leticia Arzu
Jan Fisher
Ralph Fleurantin
Cora Greenberg
Stanley Hunter
Let this business know you found them on Westchester Magazine's Online Directories.